L'opération a été menée sur commission rogatoire de la juge antiterroriste Laurence Le Vert, par des fonctionnaires de la Sous-Direction antiterroriste (SDAT), de la Direction centrale du renseignement intérieur (DCRI), de la PJ de Bayonne et du Raid. Selon une source proche du dossier, c'est un renseignement de la garde civile espagnole, transmis à la DCRI, qui a permis l'interpellation.

The operation was led on the basis of an order issued by Anti-terrorism judge Laurence Vert by members of SDAT (Counter Terrorism Sub Unit), the agents of DCRI (Interior Intelligence Central Office), the Judiciary Police unit and of Raid. According to a source who knows the file, the arrest was made on a tip received from the Spanish Guardia Civil which had been transmitted to the DCRI.
From
CNN
:
MADRID, Spain (CNN) -- Police arrested the suspected military chief of the Basque separatist group ETA in a pre-dawn raid Monday in southern France, the French interior minister announced.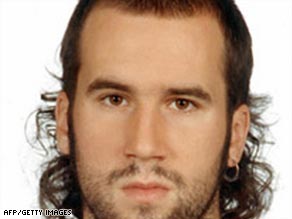 Suspected ETA military chief Aspiazu is considered a Basque separatist hardliner.
The suspect, Mikel Garikoitz Aspiazu, 35, is wanted in connection with the shooting deaths of two plainclothes Spanish Civil Guards last December -- while they were on an anti-ETA investigation in France. He is thought to have been the ETA commander who trained and sent operatives to carry out attacks.

French anti-terrorism police arrested Aspiazu, alias "Txeroki," at an apartment in the Pyrenees resort village of Cauterets, about 30 kilometers (18 miles) from Lourdes. A woman, not immediately identified, was also detained in the raid with a warrant from French anti-terrorism judge Laurence Le Vert, CNN partner station CNN+ reported. Full story here.
Comment: I can safely say that I know the Basque regions both in France and in Spain. For years, we used to holiday in the Basque region down in the southwest of France and had made excellent friends with both French and Spanish Basques that continue to this day. We had a home in Ascain, a small village near the coastal towns of Cibourre, Biarritz and St Jean-de-Luz. The children learned to ski in the Pyrenees near Saint Nary Soulan, a few miles from world famous pilgrimage site Lourdes.
Basque terrorism (ETA) on the other side of the border (in Spain) was raging but despite the troubles in the neighbouring region of San Sebastian, there were no incidents over at our side. The French Basques were perhaps more financially at ease. They had integrated very well into the mainstream French way of life. Didier Deschamps and Bixente Lizarazu were two prominent football players who played for the French team in 1998 and became World Cup champions. Deschamps captained the team to victory.
Why a group or a handful of Basques in Spain continues to violently espouse independence thus causing havoc and misery among the otherwise peaceful population in the Spanish Basque region is beyond me. Doesn't make sense. They cannot go it alone even if they had their independence. That part of Spain is not just up to it.